Description
Main features:
The B311 control unit is suitable for the automation of gates and sliding gates for intensive use and high-speed doors, served by high-power motors, sectional and industrial doors, with single-phase and three-phase motors up to 4 HP.
Microprocessor operation with upgradeable logic firmware. Customization of the control unit through the console, equipped with six modes: Work Mode, Parameter Mode, Maneuver Count Mode, Input Test Mode, Trace Mode and Language Change Mode.
Self-learning of working time
Display of the status of inputs and safety devices by means of LEDs
Remote selectable "manual" and "automatic" operation
Opto-isolated inputs with high immunity to disturbances
Automatic closing that can be activated or deactivated remotely
Automatic opening and closing by external timer (optional)
Opening and closing safety devices input with differentiated functions, with automatic check
Auxiliary OPEN, CLOSE and STOP buttons located on the board to facilitate maneuvers during maintenance
Input for partial opening command with dedicated limit switch
Open, Close and Stop buttons on the box cover (PU version)
Download the following form to choose your control unit: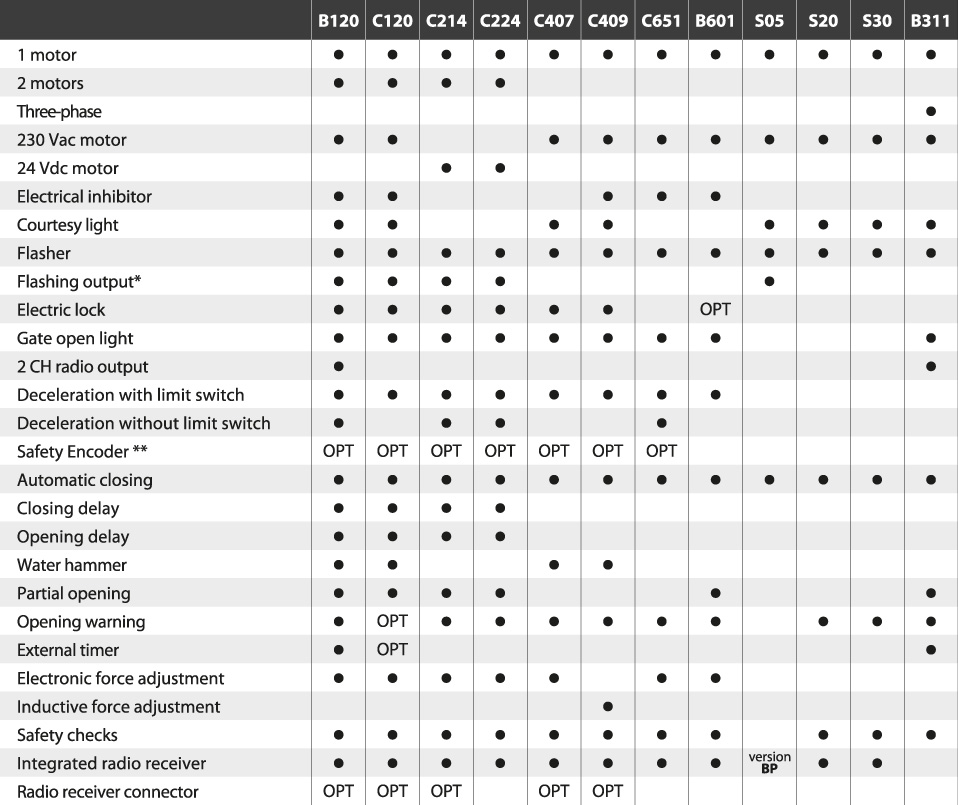 * A 230 Vac output which, when connected to a simple lamp, makes it flash.
** The new Safety Encoder guarantees complete control of the movement and inversion on the obstacle. It can installed on all BeB swing gate, hydraulic and electromechanical automations, 230V and 24V. With extreme precision it can automatically find the deceleration and stopping points without requiring the use of electrical limit switches. It can avoid the automation pushing against the stop, thereby increasing its frequency of use and life, and avoiding energy waste. It allows the elimination of mechanical stops by manually setting the hold points, even for partial openings. Following a power failure, the encoder stores the position of the gate wherever it has stopped, thus avoiding abnormal operations.