Description
Main features:
Opto-isolated inputs with high immunity to disturbances
Optional Blue Control module, for management via app
User interface LCD display
Second radio channel output
Integrated multifrequency universal receiver from 290 to 868MHz
Step-by-Step control with 4 operating modes and pedestrian opening control
Safety devices: external photocell, internal photocell, sensitive edge and stop command
Electronic regulation of the motor force
Electronic anti-crushing sensor (Amperostop)
Automatic test of triacs and photocells
Download the following form to choose your control unit: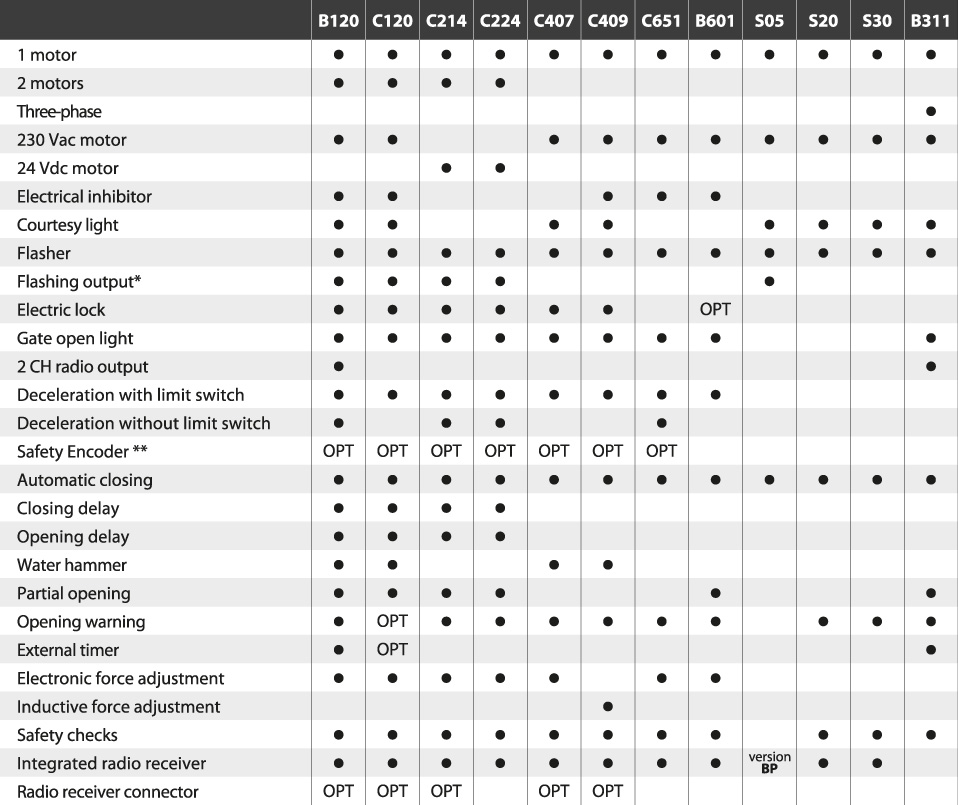 * A 230 Vac output which, when connected to a simple lamp, makes it flash.
** The new Safety Encoder guarantees complete control of the movement and inversion on the obstacle. It can installed on all BeB swing gate, hydraulic and electromechanical automations, 230V and 24V. With extreme precision it can automatically find the deceleration and stopping points without requiring the use of electrical limit switches. It can avoid the automation pushing against the stop, thereby increasing its frequency of use and life, and avoiding energy waste. It allows the elimination of mechanical stops by manually setting the hold points, even for partial openings. Following a power failure, the encoder stores the position of the gate wherever it has stopped, thus avoiding abnormal operations.