Description
Main characteristics:
Tempi di manovra della serranda e tempo di attesa per la richiusura automatica vengono definiti in fase di apprendimento
Funzioni di richiusura automatica, comando di sola apertura e relè ausiliario AUX
Modalità bistabile, impulsiva, timer minuti, timer secondi
Segnalazione stato centrale tramite LED
Versione con e senza dipswitch
Comune ingressi
Ingresso passo-passo, sicurezza e comando STOP
Download the following form to choose your control unit: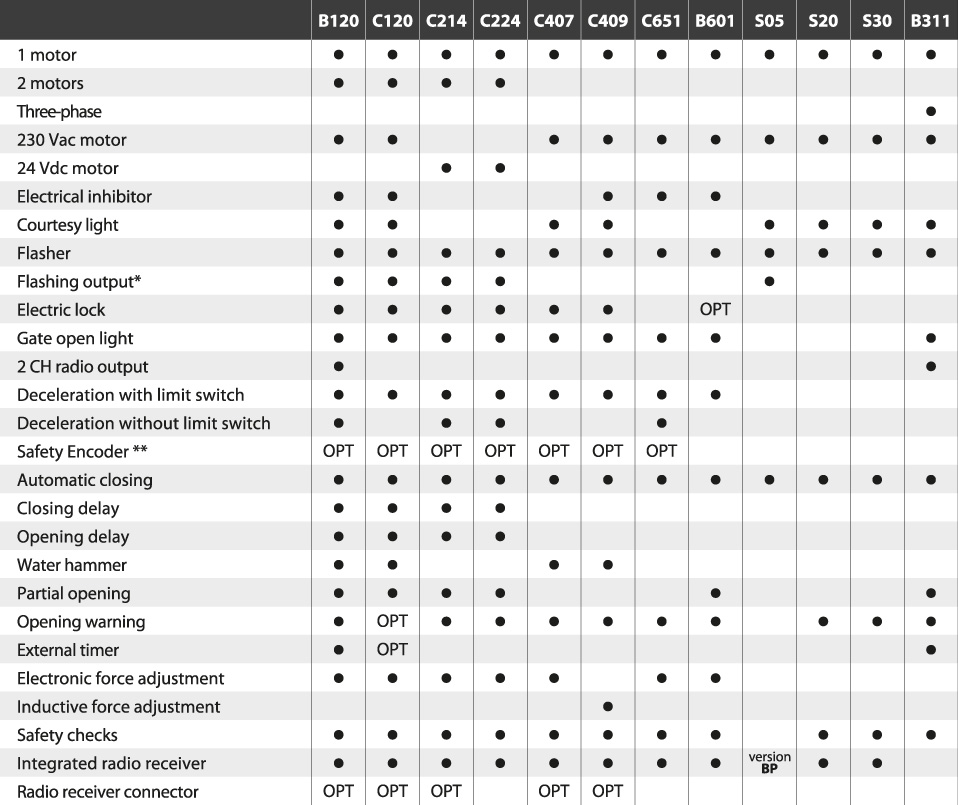 * A 230 Vac output which, when connected to a simple lamp, makes it flash.
** The new Safety Encoder guarantees complete control of the movement and inversion on the obstacle. It can installed on all BeB swing gate, hydraulic and electromechanical automations, 230V and 24V. With extreme precision it can automatically find the deceleration and stopping points without requiring the use of electrical limit switches. It can avoid the automation pushing against the stop, thereby increasing its frequency of use and life, and avoiding energy waste. It allows the elimination of mechanical stops by manually setting the hold points, even for partial openings. Following a power failure, the encoder stores the position of the gate wherever it has stopped, thus avoiding abnormal operations.